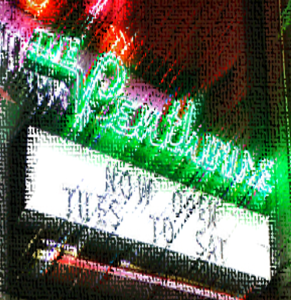 The slam of car door drew my attention to a parked taxi, as I navigated the slick streets on a rainy Vancouver night.  As the cab sped away, it's fare, a young man and two young women, disappeared into the darkened doorway of a strip club.  With my side window down to reduce the glare, there was no question, one of the two girls was Michelle.
Her picture was on the front page of Sunday's Vancouver Sun.  The paper said, police suspected "foul play" in the disappearance of the 14 year old.
It happened after a Friday night youth event in the Vancouver suburb of Surrey. Michelle promised to go straight home. Instead, she boarded the Sky Train in search of a little fun. It wasn't long before she found it. In a foolish move, she accepted an invitation to party with three young men. They were friendly and had a bottle of alcohol. To Michelle, it seemed harmless enough.
When the bottle was empty they delivered her to another team at a house in New Westminster. Here, older men would alternately force drugs upon her, and then themselves. She was never left alone. Given no food and allowed no sleep; threatened with harm should she try leaving.
When her mother contacted me the morning after Michelle's disappearance, my heart sank. I was the girl's youth leader and one of the last people to see her. I cleared my calendar to search for her.  I began by making phone calls and sending emails to those who I knew would rally to pray for a missing girl.
As far as where to search, I had little to go on.  I spent considerable time in Surrey and New West. I even got a far as Burnaby.  I soon realized, mine were not the only "Missing Girl" posters. There we others, the same age as Michelle, that had vanished.  My heart broke.
As the weekend passed, I was no further ahead. But around the supper hour on Tuesday, Michelle managed to get a moment on a pay phone. She called a friend, who was a regular at my drop-in centre. The news, that she was "somewhere downtown", quickly got back to me.  I picked up a volunteer and headed into Vancouver.
Having no idea where to start, I began by driving along the streets of the lower east side. I was taken aback by the number of girls working the street corners: several dozen in a few city blocks!  Knowing that the odds of finding the girl were slim, after two hours of searching, I started wondering if we should just go home. But I still had half a tank of fuel, so I kept driving.
Around midnight, a wrong turn led us into the heart of downtown where the streets were brighter and busier.  As I guided my Jeep along the seemingly endless roadways, I began to lament that "somewhere downtown" meant Michelle could be ANYWHERE downtown.
As I charted my exit from that area, something compelled me turn left; to take another pass along Seymour.  But the urge to turn the steering wheel seemed strange.  I second guessed myself.  Perhaps my guilt was getting to me; that a more vigilant youth leader would have prevented Michelle from going missing in the first place.  Clearly, I just wanted to fix this.
It was irrational that had come downtown at all.  But I did it because, hours earlier, I had experienced the same kind of feeling.  It was like a still small voice whispering to me, "Go bring her home."  So in spite of all my rationalizing, I, again, did what I felt I needed to do.  I turned left.  Within moments, Michelle was brought out of that taxi cab on Seymour Street.  That's how I ended up there; and at just the right time, to see her.
When the trio entered the strip club, they had no idea they had been spotted.  My helper called for police while I found the best place to park.  Now, standing across the street from the club, there was nothing to do but wait for law enforcement.
Ten minutes passed. Nothing.  Then, as quickly as the three entered the building, they were back on the sidewalk. I would learn later that inside the building they had joined an older man at a table in the show lounge.  He was simply referred to as "The Boss".  But soon, bar staff insisted Michelle would have to leave. The Boss, told the younger man to take the girls outside, saying, "There's another place that will let us in with the kid. Wait for me; I'll be out in a minute."
Immediately, we made our move.  I can't say I was as confident as I might have appeared.  Though the man cradling our treasure was young, he was very large.  Surprisingly, that there was no opposition, as we snatched Michelle from the arms that held her.  Alarmed, the young man jumped back, allowing us to escort Michelle walked to my vehicle.
Within a few blocks I was able to flag down a police cruiser.  We waited while they raced over to the club.  They were too late.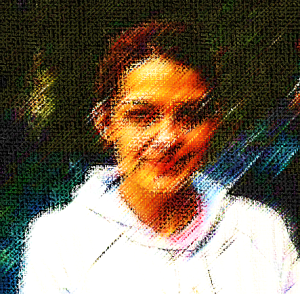 Michelle wouldn't accept medical treatment but agreed to an interview with the officers. After ninety minutes at police headquarters, the detectives re-emerged with Michelle.  They informed me Michelle's captors were part of a sex trafficking ring suspected in the disappearance of other girls.  Police hadn't been able to stop them.
"Within another day or two, she would have been gone," he told me. "You'd have never seen her again.  You really got lucky, this time."
"Luck," I replied, "had nothing to do with it," for I knew who was watching over this precious child.
This true story has been published, with Michelle's permission, by Brine Books in 2014.  To keep the story brief, the important involvement of family members (Chris, Doug and others) has not been mentioned.