Below is a letter I sent to Canada's federal Justice Minister on November 23rd, 2015 regarding Canada's prostitution laws.  Because the current government has expressed interest in changing or removing the legislation, you may also want to express your concerns.  Please feel free to borrow from my letter as you compose your own.  Remember to include your own MP, along with Justice Critic, Rob Nicholson.
Jody.Wilson-Raybould@parl.gc.ca     R
ob.Nicholson@parl.gc.ca
Dear Ms. Wilson-Raybould,  You have my deep appreciation for your willingness to take up the mantel of Justice Minister of Canada. 2015 certainly is the right timing for an aboriginal leader of your stature to advocate for the rights of Canadians at the federal level.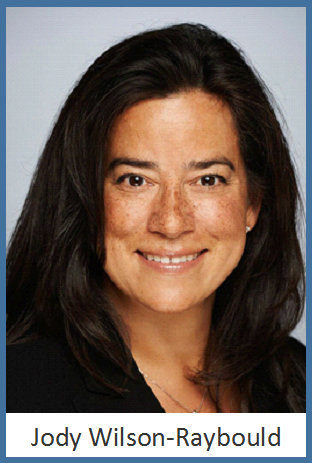 As you're well aware, there are presently great opportunities to shape the way Canadians think about gender equality and aboriginal issues. And there is no more important matter before you than the exploitation and violence that befalls countless young and vulnerable Canadians in the sex trade. I'm confident that it's from a compassionate desire to help, that the government might consider a different approach in prostitution legislation.
There is a great deal of confusion on this issue. And, as you receive input, I can only imagine how conflicting, and potentially misleading, the messages will be. From the perspective of one who has extensively studied this issue, and also, walked alongside countless exploited young people during the past 30+ years, please allow me to offer my input. I'll do this by briefly addressing three of the most common fallacies you'll be hearing about prostitution.

With various other western countries having changed their legal approaches to prostitution in recent years, we have the vantage point of learning from their experiences. The body of evidence (the actual studies as opposed to select anecdotal reports), internationally, strongly demonstrates that decriminalization increases not only the volume of sex trade activities, but also the rate of human trafficking and other forms of violence.
When Bedford versus Canada was brought before the Supreme Court, Alan Young (the lawyer who challenged constitutionality of the old prostitution laws), testified that no country that legalized prostitution has met their objectives in reducing violence. The only reasonable conclusion, for the Canadian context, is that that legal prostitution would actually decrease safety for prostitutes and increase the criminal element.

Canada's human trafficking laws are important for punishing violent individuals and raising awareness about this hideous crime. But ironically, they do very little to stop human trafficking. In fact, it's the prostitution laws that can potentially have a much greater impact on this phenomenon.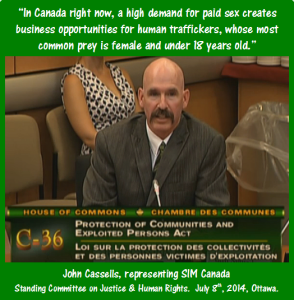 To understand the game, you need to know the players. The trafficker, or "pimp", is rarely a serious businessman. While a great deal of money changes hands, it slips through his fingers as quickly as it comes. Pimps operate in a subculture where achievement is gauged primarily by notoriety. Avoiding prosecution does nothing to build the infamy that is the quintessential measure of success. Because of that, risk of arrest can be as much an enticement as a deterrent.
Contrast that with the typical sex buyer, or "john", who cultivates the opposite persona. To protect his good and decent reputation, he will avoid arrest at all costs; even if it means utilizing a little self-control. On balance, the pimp, is more violent than the john, and so, he more easily draws our contempt. But if not for the buyer, there would be no pimps.
Like any industry that operates on the principal of supply and demand, if the money stops, the industry grinds to a halt. You cannot stop the violence of the sex trade and also allow men to fund it. Therefore, the most effective way to stop the violence is by prosecuting the men who buy sex.

As long as one remains in proximity to the darkness of the sex trade, perceptions are skewed; laws are cruel, police are the enemy and violence should be accepted as a normal part of life. The things that expose a woman to, and keep her enmeshed in, the underworld, should rightfully evoke compassion and a desire to understand. But she must not be the one to guide us on matters of justice, while in that mindset. 
There are, however, many who, exit the sex trade and regain their place in society. And they do this in the face of seemingly insurmountable obstacles. These are the "sex trade survivors". When they cut their ties to the street, they can begin to heal; with the change of environment, they can start to hope again. While some avoid any talk about the violence they escaped, others confront it, speaking on behalf of those who either have no voice or cannot grasp the truth. Ms. Wilson-Raybould, you have promised to proceed in a way that is open and engages with people. I'm wholeheartedly behind you. If you want to help those caught in the sex trade, listen not to "sex workers", but to those who can accurately explain what it means to be one.
The Canadian model on prostitution provides this country's very first offering of meaningful protection from commercial sexual exploitation. And it aligns with the values of Canadians, as the voices of the 31,172 respondents to the federal government's public consultation clearly indicate. The rationale for discouraging the prostitution is well founded. Some of Canada's leading police forces are now beginning to use the new laws to more effectively protect vulnerable women and children. Toronto Police Sex Crimes Unit Insp. Joanna Beaven-Desjardins publically put her city's 'johns' on notice last Thursday, saying, "We're coming after you. You are the problem." York Regional police have arrested at least 22 sex buyers so far, this month. The list goes on.
The Liberal government will fail if the intent is to create safety within a burgeoning sex trade. Toronto Pharmacist, Allen Chow had the opportunity to amass 70 hours of rape videos because it was, at the time, legal for him "hire" prostitutes. You will not significantly reduce the harms that result in the chronic medical conditions, addictions and mental health problems that plague prostitutes. You won't stop them from taking their own lives, or been killed, directly. And you'll make little ground on women's issues, and especially aboriginal women's issues, as long as men can rent their bodies. To undo our new prostitution laws would be a callous betrayal of those they were meant to protect.
I sincerely thank you for your diligence on this critical matter,
John Cassells, Street Youth Specialist, SIM Canada