Danny Ferguson / John Cassells
There are a small number of big questions that help us understand our place in the world.  As an outreach worker, here's one that wasn't easily resolved for me:  What sets me apart from those I meet on the street?  To be more specific, how would I have responded if, as a young person, my hopes and dreams were taken from me; if I had found myself alone in the world?  My friend Danny Fergusson shares this revealing perspective: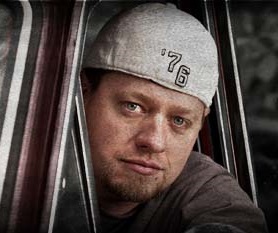 "I took a couple of trips downtown with my coworkers recently. We split up and walked alone for a while. As soon as I was alone on the crowded streets of Vancouver, I felt my security and confidence drip away. I started to wander…
Something told me (I am sure it was God) to sit. I looked but it seemed every spot was taken. I ended up in an alley. At first the smell was putrid and I did not want to stay. There were so many people looking through the dumpsters, pushing around their carts, walking, and talking. I found a vacant spot and sat down. The city is a noisy place. This day was no exception with the hustle and bustle of traffic. The countless voices, horns, and construction leave a deafening wake. Yet in those few minutes I became painfully aware of a quietness around me. I was lonely. Just then a bus full of sightseers drove through the side road intersecting the alley. The people on board saw me but were quick to avoid eye contact. My loneliness increased all the more.
"Maybe these hobo's were not traveling toward home as much as they were traveling away from horrors of war."
Here, I was lonely, rejected, insecure, bored… If I could feel this way in under an hour, how would I feel after a week or a year in that place? Who would I become? As important as I like to think I am, in that moment I saw myself for who I really am: a wondering hobo. The term hobo came into wide use after the close of the U.S. Civil War. It was used in reference to the soldiers who were "Homeward Bound". Some of these men never made it home, and gave into a life of aimless wondering. Maybe these hobo's were not traveling toward home as much as they were traveling away from horrors of war. The people in the alley are also trying to escape from war filled lives. Wars that took place in their homes and now they are wandering on a journey not toward home but away from it.
I tried to imagine my home in that way. I thought of my hurts and pain I had faced in my past and tried to multiply them. A light went on for me."
Danny gets it.  Bringing hope to street youth takes more than social programs.  Merely feeding, clothing and providing shelter come up short.  We'll never get it right until we can walk alongside those who are lost and forgotten.  Not above, not ahead, but with them.  Building a program provides temporal support, but building community provides a place of true belonging.  We're able to do this, only when we understand OUR own place in the world, and that THEY are not so different from you and me.
Danny Ferguson is Langley Area Director for Greater Vancouver Youth Unlimited (YFC).  Get to know Danny better at
http://www.proyouthworker.com/